This report analyzes Home Automation (HA) Market on a global level, with further breakdown into various sub-segments. It provides cross sectional analysis of the market for home automation systems based on parameters such as geography, system type, applications, and networking technology. The analysis covers the market estimates in terms of revenue and forecast for the period 2013 – 2019.
The market is going through a growth phase marked with complexity and immaturity. There are variations in growth pattern across different geographies. These variations exist in terms of technologies used and applications preferred. This report is thereby produced to give a detailed overview of the ongoing trends in the market. It includes review of market dynamics with focus on market drivers, growth challenges (restraints), and opportunities. The value chain analysis and Porter's five forces analysis included in the report further helps in assessing the market situation and competitiveness. Market attractiveness analysis highlights key segments of the market and their comparative attractiveness against other segments.
The market was valued at USD 3.6 billion in 2012 and is expected to reach USD 16.4 billion by 2019, growing at a CAGR of 24.6% from 2013 to 2019.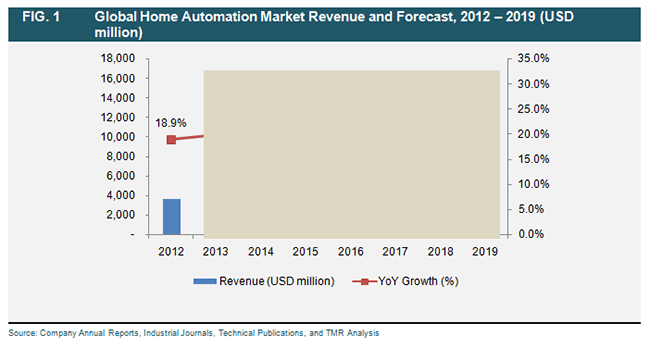 Apart from the detailed segmentation analysis as illustrated through the below given figure, this report also provides company profiles of the key players in the global market. The competitive profiling of these players includes company and financial overview, business strategies adopted by them, and their recent developments which can help in assessing competition in the market. Some of the major companies included in this report include Crestron Electronics, Inc.; AMX LLC; Control4 Corporation; Honeywell International, Inc.; Johnson Controls, Inc.; Siemens AG; Nortek, Inc.; Schneider Electric SA; iControl Networks, Inc., 2GIG Technologies, and Vantage Controls, among others.
The report analyzes the global home automation market in terms of revenue (USD million). The market has been segmented as follows:
Home Automation Market, By Application:
Entertainment (home A/V)
Lighting
Safety and Security
HVAC
Energy Management
Others (home robotics and home healthcare)
Home Automation Market, By Networking Technology:
Wired
Power-line
Computing Networks
Wireless
Wi-Fi
Zigbee
Z-Wave
KNX
Others (Insteon, Wavenis, and X-10)
Home Automation Market, By Type (mode of entry):
Luxury
DIY (Do-it-yourself)
Mainstream
Managed Services
Home Automation Market, By Geography:
North America
U.S.
Canada
Mexico
Europe
Germany
UK
France
Italy
Scandinavia
Rest of Europe
Asia Pacific
China
India
Japan
South Korea
Australia
Taiwan
Rest of Asia Pacific
Rest of World (RoW)
South America
Middle East
Africa
Home Automation Market (Lighting, Safety And Security, Entertainment, HVAC, Energy Management) - Global Industry Analysis, Size, Share, Growth, Trends, And Forecast, 2013 - 2019
Source - MarketResearchReports.biz