A car rental company rents out vehicles/automobiles for a specific period of time ranging from a few hours to a few months for an appropriate fee. The service is often organized across various local branches, facilitating customers to return the vehicle in a location of their convenience. In addition, car rental services are often complemented by websites, allowing online reservations and car rental offices are primarily located near airports or busy city areas. Car rental agencies serve people whose cars are temporarily out of service or the ones who do not have access to their vehicles, for example owners of damaged vehicles who are awaiting insurance or repair compensation, or travelers from outside the town. Alongside the basic rental of a vehicle, car rental agencies typically offer extra services, such as GPS navigation systems, insurance and entertainment systems.
Global car rental market was valued at USD 36.89 billion in 2013, growing at a CAGR of 13.6% from 2014 to 2019 to account for USD 79.46 billion in 2019. Increasing GDP levels, increasing volumes of both inbound and domestic tourists coupled with rise in disposable incomes and improving road infrastructure are factors driving the car rental industry.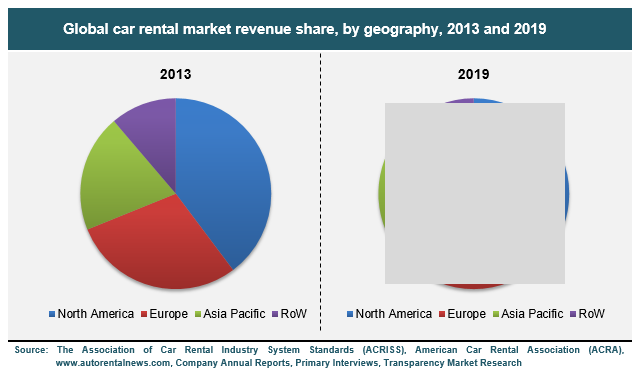 MarketResearchReports.Biz
This market research study analyzes the car rental market on a global level, and provides estimates in terms of revenue (USD billion) from 2014 to 2019. It recognizes the drivers and restraints affecting the industry and analyzes their impact over the forecast period. Moreover, it identifies the significant opportunities for market growth in the coming years.
The report segments the market on the basis of geography as North America, Europe, Asia-Pacific (APAC), and Rest of the World (RoW), and these have been estimated in terms of revenue (USD billion). In addition, the report segments the market based on the types of cars, which include luxury cars, executive cars, economy cars, SUV's and MUV's. It also segments the market on the basis of category as local usage, airport, outstation, and others (self drive, event transportation, employee transportation solutions). All these segments have also been estimated on the basis of geography in terms of revenue (USD billion).
For better understanding of the car rental market, we have given a detailed analysis of the supply chain. A detailed Porter's five forces analysis has been given for a better understanding of the intensity of the competition present in the market. Furthermore, the study comprises a market attractiveness analysis, where the applications are benchmarked based on their market scope, growth rate and general attractiveness.
The report provides company market share analysis of various industry participants. The key players have also been profiled on the basis of company overview, financial overview, business strategies, SWOT analysis, and the recent developments in the field of car rental. Major market participants profiled in this report include Enterprise Rent-A-Car, The Hertz Corporation, Avis Budget Group, Inc., EuropCar and Sixt among others.
Car Rental Market: By geography
North America
Europe
Asia Pacific
Rest of the World
Car Rental Market: By type of car
Luxury Cars
Executive Cars
Economy Cars
SUV's
MUV's
Car Rental Market: By category
Local Usage
Airport Transport
Outstation
Others (self drive, event transportation, employee transportation solutions)
The report provides a cross-sectional analysis of all the above segments with respect to the following regions:
North America
Europe
Asia Pacific (APAC)
Rest of the World (RoW)
Source - MarketResearchReports.Biz